| | |
| --- | --- |
| WORLD SAXOPHONE QUARTET | Last updated 23 April 2000 |
This page is an offshoot of my David Murray Home Page. Due to the now extensive career of the World Saxophone Quartet which spans some twenty years and in order to keep my main site uncluttered, I have now set up this separate site.
I first saw the World Saxophone Quartet in concert in my home town of Brisbane, Australia in 1991. I have followed them since the mid 80s.
I would like my site to be as complete and accurate as possible hence any additions, corrections and suggestions are welcome.

---
The World Saxophone Currently Consists of:
David Murray
John Purcell
Oliver Lake
Hamiett Bluiett
Past members include:
Julius Hemphill (now deceased)
Arthur Blythe
---
NEWS:
---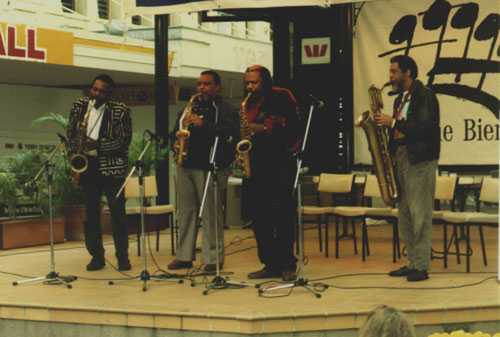 World Saxophone Quartet in The Queen St. Mall, Brisbane, Australia 1991
David Murray, Arthur Blythe, Oliver Lake and Hamiett Bluiett

---
DISCOGRAPHY
TITLE
CATALOGUE NO.
YEAR
Point of No Return
Moers Music 1034
1977
Steppin' With The W.S.Q.
Black Saint 0027
1979
W.S.Q.
Black Saint 0046
1981
Revue
Black Saint 0056
1982
Live In Zurich
Black Saint 0077
1984
Live At Brooklyn Academy of Music
Black Saint 0096
1986
W.S.Q. Plays Duke Ellington
Elektra/Nonesuch 979 137
1986
Dances And Ballads
Elektra/Nonesuch 979 164
1987
Rhythm And Blues
Elektra/Musician 960 864
1989
Metamorphosis
Elektra/Nonesuch 979 258
1990
Breath of Life (With Fontella Bass)
Elektra/Nonesuch 979 309
199?
Moving Right Along
Black Saint 120127
1994
Thankyou for assistance to Michael Fitzgerald who has an excellent jazz site with a large number of discographies and many useful links: http://www.eclipse.net/~fitzgera

---
WSQ articles appear in the following issues of Down Beat:

September 1996 - "New Life After Julius" by Herb Boyd

---
Coming soon ... more exclusive photos of the WSQ in Australia in 1991 for an appearance at the Brisbane Bi-Ennial Festival.

---
Go back to the David Murray Home Page
You might also like to check out my other pages:
Marcel Safier's Jazz Home Page
or go straight to:
Andrew Hill Discography/Sessionography
George Adams Discography/Sessiongraphy
Von Freeman Discography/Sessionography
Charles Tolliver Discography/Sessionography

---
Click here to purchase WSQ's music at
or
& help support this site
---
This site is maintained by Marcel Safier in Brisbane, Australia. You can e-mail me at msafier@ozemail.com.au